Rufus Giwa Polytechnic which was formerly known and addressed as "The Ondo State Polytechnic,Owo" was established in 1979 while it commenced activities in January 1980. The primary mandate of the Institution as concieved by the Ondo State Government being its proprietor stillremains of middle-level manpower in Science and Technology related fields of study as part of efforts aimed at an effective development of Technology in Ondo State in particular and Nigeria in general.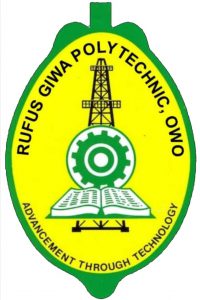 Our Core Values
Our Core Values Include:-
. Spirit of excellence in teaching, research,scholarship and creative activities.
. Promotion of hard work, team spirit,originality, self-reliance,Integrity and ethical values
. Our staff and students are the core assets
Mission
. To stimulate spirit of excellence in teaching, research,Scholarship and creative activities among staff and students.
. To encourage academic freedom,creative and innovate thoughts, ethical standards, integrity, accountability and social justice.
Vision
To be a leading Technological Institution recognized globally for its quality, relevance and impact in the area of training and research for developing people and making a difference locally and globally.