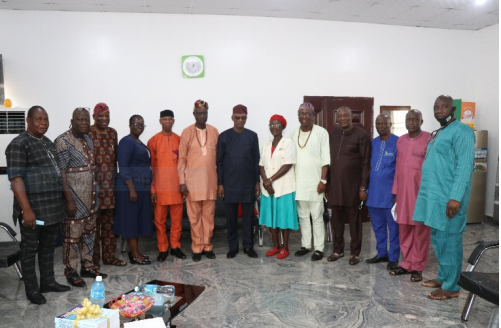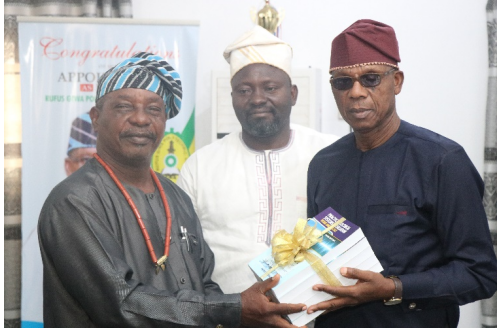 The Polytechnic Committee of the Owo Kingdom Development Association (OKDA), under the headship of Chief Amos Aladeseye, the Akinyonwa of Owo, paid a visit to the Management of Rufus Giwa Polytechnic, Owo, on Thursday 7th October,2021 in a bid to support the Polytechnic and help alleviate some of the challenges facing the Institution.
Speaking on behalf of Chief Aladeseye, Chief S. E. Dairo, who is the Vice Chairman, OKDA, thanked the Management for the massive infrastructural development in the Polytechnic. He stressed that it is important for the Polytechnic to progress, being the foremost Higher Institution in Owo kingdom.
He opined that the Institution should start to think outside the box with a view to improving on its sources for Internally Generated Revenue, because Government funding alone can no longer sustain any institution.
In the same vein, the Secretary to the Committee, Mr. Idowu Olakunri, appealed for unity and cooperation among the Management, staff and students. This is sequel to reports reaching the Committee on some happenings in the Institution. He, therefore, appealed for peace, as it is essential to progress and development. 
He remarked that the Polytechnic has made significant progress under the leadership of the Rector. This, according to him, is sustainable if peace is allowed to reign. Mr. Olakunri vouched that the association would use all its connections to help the Institution to address the financial problems facing the Institution.
Earlier, in his welcome address, the Rector of the Institution, Mr. Gani Ogundahunsi, had thanked the Committee, the Olowo of Owo, Oba Ajibade Gbadegesin Ogunoye III, the Visitor to the Institution, Arakunrin Oluwarotimi Odunayo Akeredolu, SAN, and the Governing Council Chairman, Barrister Banji Alabi, for their immense support for the Polytechnic.
The Rector highlighted some of his achievements to include training and retraining of staff, stable academic calendar, accreditation and re-accreditation of all programmes and massive infrastructural development of the Institution. He identified inability to pay salaries as his greatest challenge, occasioned largely by the COVID- 19 pandemic and the concomitant economic recession. He expressed his belief that Mr. Governor would not relent until he has put smiles on the workers' faces. The Rector equally appreciated OKDA's efforts and hoped the synergy would be sustained.
In another development, the Olowo of Owo, Oba Ajibade Gbadegesin Ogunoye III, had presented some books to the Department of Electrical /Electronic Engineering.  Presenting the books to the Rector on behalf of the Olowo, Chief Amos Aladeseye said the gesture was to afford the department access to relevant books.
The auspicious occasion was witnessed by the Deputy Rector (Academic), Engr. Sunday Lawson, Deputy Rector (Administration and Development), Engr. (Dr.) Samuel Alagha, the Registrar, Mr. Sule Atiku, representative of the Bursar, Mr. Oyewusi, the Polytechnic Librarian, Mrs. Rachael Aladeniyi, and Chairman Committee of Deans, Mr. Taiwo Olatunji, with Mrs. Eniayewu and Chief Aladegoroye as members of the Committee(OKDA).
Signed
S.O. Ojo (JP)
Director of Public Relations & Protocol